Why Did Tupelo, Mississippi Man Hijack An Airplane?
Posted by Warm Southern Breeze on Tuesday, September 6, 2022
As I initially gave thought, the title "Dumb Southerners Dominate News Cycle" seemed apropos. But upon further reading, and consideration, decided that something else would be more fitting and descriptive.
And, I agree with what Tupelo, MS Mayor Todd Jordan said.
---
Southerners dominated the news this week.
And just at the last possible moment, at that!
It wasn't just domestic sources, either.
International reporting agencies picked up and carried the bad, sad news to a worldwide audience.
Thanks, Internet!
And fortunately for the Sunshine State, no Florida Man, nor Lone Star Lunatic, was involved.
That's excluding Ron DeSantis and Greg Abbot, of course.
They're imposters, merely masquerading as men.
I mean, what sort of goofball goombah wa$tefully ex$pend$ ten$ of MILLION$ of Taxpayer Dollar$ (nearly 8000 passenger$ at over $1400 each) with a friend'$ bu$ company to charter one-way ticket$ to tran$port refugee$ to di$tant citie$ where they're abandoned? Investigative reporters found that "plane tickets from Texas border towns McAllen and Del Rio to Washington D.C. [cost] about $200-$300. First-class tickets were in the $800-900 range, much less than the cost of a seat on the Republican governor's border buses."
And what sort of dunderheaded doofus leads an effort to pretend that certain words or concepts don't exist in the English language, and even attempts to "ban" their use? The phantasmagoric ostrich head-in-the-sand imagery in this instance is comedically apropos. Drawing a false equivalency to sophisticated theoretical concepts taught at post graduate school level by pretending that such complex subjects are taught to 4th and 5th graders simply because there may be a few co-existing words of the subject is so bizarrely enigmatic that it barely warrants even scant attention. It is making a proverbial Mount Everest out of a gopher hole.
But, Southerners are DEFINITELY the "elephant in the room" that'll dominate for the news cycle for the next week, or two, or, maybe even more… if something worse doesn't happen.
First we turn to li'l ol' Tupleo, Mississippi, birthplace of the long-late King of Rock 'n Roll, Elvis "The Pelvis" Presley.
Tupelo (pop. 37,923, per the U.S. Census Bureau), is also home to singer-songwriter Paul Thorn, who, with album & song titles like "Pimps And Preachers," "I Don't Like Half The Folks I Love," "Joanie, The Jehovah Witness Stripper," "Double Wide Paradise" (performed by Toby Keith), "800 Pound Jesus" (perfomed by Sawyer Brown), "You Mess Around & Get a Buzz," "It's A Great Day To Whup Somebody's Ass," "A Long Way from Tupelo," and more, is unarguably one of the South's greatest natural artistic resources. His musical giftedness and style is unmistakably Southern, enjoyable and fun, while his lyrical story-telling style is as much piquantly quirky as it is humoresque and dark, often melancholic, telling tales of dysfunction, redemption, and thankfulness, often reflective of another way of life (alt.life) that some don't like to admit exists in the South. His unique Americana roots style is most definitely a refreshing breath of fresh air on the American musical scene.
And Tupelo, as it just so happens, was also where on Friday, 3 September 2022, a misguided moronic male, 29-year-old Cory Wayne Patterson, who, being employed for the past 10 years by Tupelo Aviation at the Tupelo Regional Airport as a lineman (one who refuels aircraft), was overcome with an acute attack of betise, and shortly after 5AM, hijacked N342ER, a twin engine Beechcraft King Air C90A, owned by Southeast Aviation LLC, of Oxford, MS, took it for a not-so joy ride, and threatened to crash it into the local Walmart.
Fortunately, police negotiators were "able to convince him to not carry out this deed and to land the aircraft at Tupelo Airport," though he eventually landed in a soybean field.
Flight data showed a bizarrely purposeless pattern, with a take-off approximately 0532, and landing 1508 local time. The Flight Safety Foundation's Aviation Safety Network summarized the matter succinctly:
"A Beechcraft C90A King Air, N342ER, was stolen by an airport employee and landed in a soybean field behind the Gravestown Volunteer Fire Dept off MS Hwy 4 in Tippah County, Gravestown, Mississippi, after an estimated 4.5-hour flight over Northen Mississippi and, a threat to crash into the local Walmart in Tupelo, MS.

"The "student pilot" was uninjured and arrested with multiple Felony charges pending."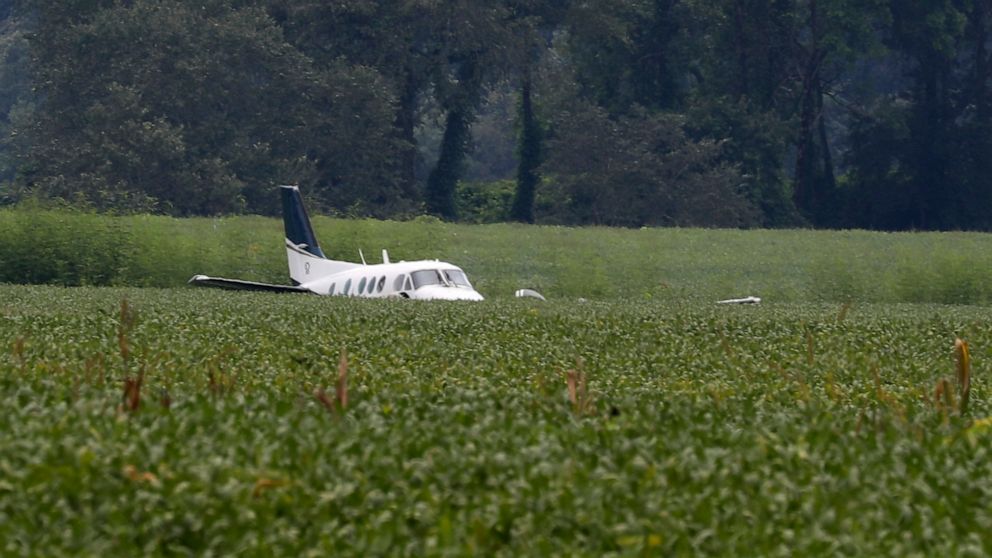 In very short order, word of this event quickly made its way around the world in a mere matter of couple hours — much less time than Cory Wayne Patterson spent in the air.
So, once again… THANKS, Internet!
In at lease one case, local reaction was typically Southern, and somewhat comedic, if anything.
Steve Holland, a local Funeral Director who formerly was a Mississippi State Representative, said he received calls from families concerned about the hijacked plane.
"One called and said, 'Oh, my God! Do we need to cancel mother's funeral?' I just told them, 'No, life's going to go on.'"
Isn't that what John Mellencamp reminded us of in his 1982 "little ditty about Jack and Diane"? "Oh yeah… life goes on, long after the thrill of livin' is gone."
Like in many small towns and villages, good, bad, or indifferent, most everybody knows most everybody else… and their business. That's just how it is. Not that folks are nosy, per se, but rather, that they "got your six," which is to say that they look out for one another. There are benefits to small town life.
And, true to form, Tupelo Mayor Todd Jordan did speak with Patterson's family and publicly stated that, "I believe that after the initial threat, he did not want to hurt himself, or anyone else, and I believe that we had what you would think would be the best-case scenario: No one was injured. The suspect is now in custody. He will get the help he needs, as far as whatever he's dealing with. I can't thank all these organizations enough to bring him in safely."
This remark – "He will get the help he needs, as far as whatever he's dealing with." – in conjunction with "I believe that … he did not want to hurt himself, or anyone else," expresses a genuine level of care, and concern, for a fellow community member.
No one hijacks an aircraft because everything in their life is A-OK.