Lessons Learned, and Not Learned
Posted by Warm Southern Breeze on Monday, January 10, 2022
What lessons could we learn from nicotine chewing gum?
You might be surprised.
Read on.
---
Having never been addicted to anything (or, anyone), the craving for a substance, other than food & water for sustenance, it interests me to understand the strong cravings that some have for non-food substances, including, for example, tobacco, spiritous beverage, or narcotics abused, or other illicit substances, including cocaine, methamphetamine, etc.
For years, I have, on a personal level, maintained that addiction was not what many were saying that it was, some years ago. And in the interim, from then until now, indeed, the definition, and our understanding of addiction has substantially changed, precisely because of our increased understanding of physiology, in conjunction with improved recognition of cause-and-effect patterns of human behavior.
For example, with smokers, they almost always fall into habituation through association with routine. Wake up, toilet, smoke, bathe, smoke. Drink coffee, smoke. Drive to work, smoke. Work a couple hours, smoke break. Work a few more, lunch break, smoke. Work a bit, smoke break. Off work, drive home, smoke. Get cleaned up, smoke. Watch teevee, smoke. Eat supper, smoke. Have cocktails/nightcap, smoke. And it all repeats itself the next day. That's significantly serious behavioral reinforcement.
Those who make effort to quit, frequently forget the association of routine with smoking, and when determined to quit, they sometimes fail for the very reason that they're unaware of the habituation by association. They might as well try changing their routine altogether if they don't become aware of the "trigger" by association with routine.
For abused narcotics, such as opiates, in addition to the pleasurable sensations, there is a physiological aspect, which is also found in alcohol abuse, certain other medications and illicit substances, in which the body, over a period of time, becomes accustomed to operating "under the influence" of a substance, and therefore, after a prolonged period of time of use becomes accustomed to its effects upon the body's systems, and requires that substance — literally — in order to survive. Sudden removal of it — often called quitting "cold turkey" — could prove fatal, literally. And that's why, in hospitals where patients who are known alcohol abusers, will be given at least one beer daily, simply in order to stave off the DTs, or Delirium Tremens, a cascade of violent, life-threatening physiologic events.
There are, of course, also "triggers" with substance abuse — including food, which can also be abused — in which a seeming crisis, or the inability to effectively handle pressure, the stress of certain situations, or scenarios, may motivate the abuser to seek refuge, or relief from their distressing feelings by turning to the substance for the perceived relief it provides. No one has ever had as a goal in life to become an addict, nor has anyone ever said to themselves, "Gee… I think I want to become an addict."
So, with addiction, there are essentially two aspects:
1.) Chronic habituation by association, i.e., behavior, and;
2.) Physiological addiction.
Part of the behavioral change associated with recovery from substance abuse, particularly with alcohol and pharmaceuticals, legal or illegal, is learning new coping mechanisms to effectively handle stressful situations, and emotional triggers. With opiate abuse, as with alcohol abuse, there is an opiate medication often given to minimize, and stave off withdrawal symptoms.
But, if given further thought, it's easy to understand why, in areas with high unemployment, job loss, closed factories, economically devastated communities etc., that folks turn to opiates to relieve the pain, the intense emotional, psychosocial suffering they're experiencing from being devalued, and tossed aside like so much trash, by corporate America.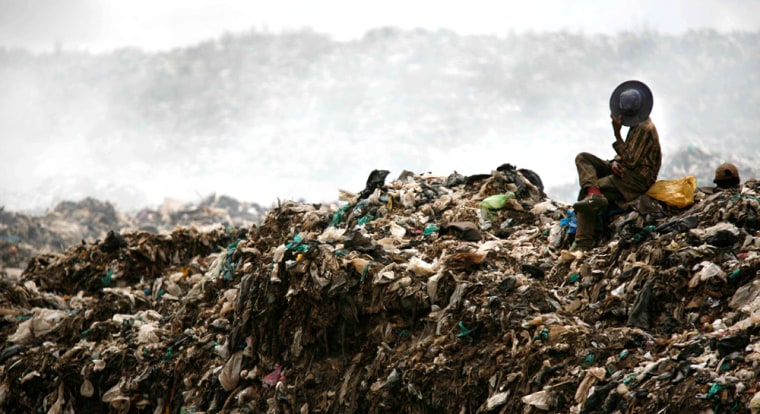 With tobacco, the active substance being nicotine, chronic habituation by association is more the case, because there is, as far as I know, no case in which anyone ever died or suffered injury from not having a cigarette, no matter how much they say they crave one.
We human beings in every society and culture worldwide for eons have known how to "goose" our system, and frequently do so with a variety of substances, including coffee for a pick-me-up, spiritous beverage for relaxation, some over-the-counter medications as sleep aids, with those substances also including life-sustaining foods for energy.
It's nothing new.
Indigenous people of the Andes Mountains region in South America chew coca leaves — and have for at least 8000 years according to archeological researchers who found evidence amidst ruins under modern houses, while indigenous peoples of East Africa, Ethiopia, Egypt, Yemen, the Arabian Peninsula, and Middle East, chew khat — and have, again, for several thousands of years — the 11th century at least — while Muslim "Sufi mystics embraced khat as a divine gift because it facilitates a sense of union with God," and "Sufi poets debated the merits of khat versus coffee as early as the 16th century." Primitive peoples in the Amazon Basin jungles of Peru and Brazil have used ayahuasca for a spiritual experience since around 800-1200 CE, evidence having been found in the hair of mummies found the Atacama Desert in northern Chile, and Native American peoples of the Desert Southwest have used peyote similarly for perhaps 10,000 years based upon fossilized evidence found to contain mescaline, the psychoactive substance in peyote.
The mummified frozen human remains of a female thought to be a princess approximately 2500 years ago in Siberia was discovered to have cannabis in her possession, while similarly mummified remains of male and female couple also found in Siberia and thought to be chieftans or royals of the Pazyryk civilization in the region of Siberia, Kazakhstan, and Mongolia around the 6th to 3rd centuries BCE, were also found with a large cache of cannabis among their remains. More recently, archaeologists excavating a Judahite Shrine of Tel Arad near the Dead Sea in Israel discovered residues of cannabis and frankincense on two altars at that site, which were thought to be from the 8th century BCE. It certainly gives new meaning to "the most high."
Everyone's looking for optimal, "peak" performance, or improvement, in one way, or another. And many are familiar with various competitive athletes who, in their chosen sport, by law, and by regulation, are forbidden from using any "performance enhancing" substances.
Perhaps one of the best-known examples of the use of such performance enhancing substances and "the most sophisticated, professionalized and successful doping program that sport has ever seen" includes the phenomenal story of American bicyclist Lance Armstrong who, after recovery from Stage 3 advanced testicular cancer, amazed the world with 7 consecutive victories of the renown Tour de France, a rigorous multi-day road race covering over 2400 miles along an annually varied, circuitous route throughout the nation, with the most arduously difficult segment being the mountainous terrain of the Alps along the south near the border with Italy and Austria. Following extensive investigation, testimony of numerous witnesses, and discovery of his, and his team's use of prohibited performance-enhancing substances, all of his medals from August 1, 1998 forward were stripped, the victories vacated, and he was further penalized with a permanent lifetime ban from any competing in any sport that adheres to the World Anti-Doping Code.
In sports lingo, the use of performance-enhancing substances is colloquially termed "doping," and the practice is particularly pervasive in horse racing, though it is similarly anathema to that sport principally by regulation, though perhaps not disallowed to the extent it is in human competitive sport where it is unquestionably illegal -and- forbidden under regulation by the United States Anti-Doping Agency, a 501(c)(3) not-for-profit non-governmental organization regarded worldwide as an authority on the subject, the rules to which all athletic agencies and athletes must adhere in order to compete.
USADA is similarly recognized by the United Nations and the United States government through their ratification of the UNESCO International Convention against Doping in Sport, and receives a portion of their income from the U.S. Office of National Drug Control Policy, though other income comes from contracts with other sports agencies, including the United States Olympic Committee.
The World Anti-Doping Agency is a foundation created by the International Olympic Committee whose rules are are enforced by the UNESCO International Convention Against Doping in Sport, and works hand-in-hand with USASDA. WADA annually publishes a list of prohibited substances, and has for several years stated that "Bupropion, caffeine, nicotine, phenylephrine, phenylpropanolamine, pipradrol, and synephrine: These substances are included in the 2022 Monitoring Program and are not considered Prohibited Substances."
Having gone through various periods of time earlier in life in which I "played" with cigarettes, I have never found any interest in, nor attraction to them, and my use of them was purely "experimental," per se, and very short-lived, occurred fewer than a handful of times, and were consumed sporadically over perhaps a week, or two, at the most.
Some time back, however, on a curious lark, I purchased some nicotine gum in order to see how it affected me, and wondered if it might provide "pick-me-up" stimulation similar to coffee. There was no warning printed on the box, or insert, and rather, stated that "nicotine gum is a medicine," and "this medicine is believed to be safer than smoking."
The only mention made of addiction was this statement buried deep within the insert, and in tiny printing: Because the nicotine gum "does not contain the tar or carbon monoxide of cigarette smoke, it does not have the same health dangers as tobacco. However, it still delivers nicotine, the addictive part of cigarette smoke." Interestingly, in the notation of tips to assist smoking cessation, the statement that the purpose of the use of nicotine gum "is to provide you with enough nicotine to help control the physical withdrawal symptoms so you can deal with the mental aspects of quitting."
There you have it — the acknowledgement that the behavioral aspect of addiction is far more important than the physiological aspect.
Again, that was the only mention made of addiction, and there were no warnings about cancer, bizarre behavior, suicidal or homicidal ideations, hallucinations, heart attacks or stroke, or any such thing, and the use section in the "Drug Facts" consumer information box stated that it "reduces withdrawal symptoms, including nicotine craving, associated with quitting smoking." Since I didn't smoke, I wasn't overly concerned. And as an adult well over the age of 18 — the youngest age at which one could legally purchase the product, I was allowed to use it for whatever purpose I chose.
The United Kingdom's group Action on Smoking and Health cited authoritative research that stated "Almost all of the harm from smoking comes from the inhalation of tobacco smoke rather than nicotine. There are some risks to health from nicotine but overall they are relatively minor. It is important to note that it is the delivery of nicotine through tobacco smoke which makes it potentially addictive as this is the fastest way of delivering nicotine to the bloodstream. Tobacco smoke may also include chemicals that make nicotine more potent because nicotine separated from tobacco is not particularly addictive," … "nicotine replacement treatments have virtually no addictive potential for non-smokers and only limited appeal to smokers."
And again, there you have it — "nicotine separated from tobacco is not particularly addictive," and "nicotine replacement treatments have virtually no addictive potential for non-smokers." But you'll rarely, if ever, hear that from American health interests.
Over the next several days, I occasionally chewed a piece during the day at a time when a pick-me-up would help. It worked. And the best part? I wasn't turned into an ogre, or a drooling demon.
Yesterday, I discovered an unused box under the countertop. Guess that means I'm not addicted.
It does give pause for thoughtful consideration, however, the role that our health institutions and researchers have to fully inform the public. And given the well-deserved criticism of the CDC in recent days, it adds to the growing list of things that our nation's most trusted officials have mismanaged. The failure to communicate, and to communicate effectively with the public, goes a very, very, very long way.
As a RN who has seen suffering, death, and healing, and almost everything in between, I've always been nothing but forthright with my patients, and have always told them, "if I don't know the answer to a question, I'll do my best to find out for you. I'm on your team, and you're the captain of the team."
Our nation's top doctors and pubic health officials would have done much better to be so honest with the public, and tell them something like,
"Hey, ya'll… we don't know exactly what's going on, either, and we're on a learning curve too; but we'll tell you everything that we do learn, and we'll do it as soon as we learn. So please bear with us, because we're all in this together."
You couldn't buy — with any amount of money — the trust that level of honesty would have bought.
Had the American public heard such a humble and honest message, rather than the hubris and smoke-and-mirrors public relations game that continues to be played, I think we'd be far, far more ahead of the proverbial ball game, than we are now.